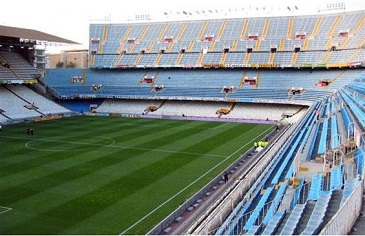 The MESTALLA stadium is home to the Valencia Football club team. This is a legendary stadium that has lived many important games with mythical players and probabably all the important teams of Europe have in some occasion or other, in some competition or friendly matches have played over here.
The club is now constructing their new stadium and are giving their fans the possibility of going around the stadium as it is possible in many other venues of other great teams around the continent. This stadium was inaugurated on the 20th of May 1923 and has a capacity to seat 55.000 people. The club has just celebrated its 90th birthday as it was formed on the 18th of March in the year 1919. So be sure that history awaits you during this visit.
The cost is 6 Euros a person. You can book a tour from Monday to Friday, which goes on for an hour and will get to see the ground, the rooms that the teams use, the press conference room and other parts that are not normally visible when you think of a stadium. The timings are from 10 in the morning till 1 in the afternoon. You can buy your tickets at the official store in front of the stadium or book them by phone or through the clubs website. These contacts are given below.
Read more: http://www.virtualtourist.com/travel/Europe/Spain/Comunidad_Valenciana/Valencia-251564/Sports_Travel-Valencia-TG-C-1.html#ixzz1l1ezZDEW